Dreamscaper is out now!
It left Early Access to fully launch on August 5, 2021, which was sooner than anticipated. Some games run into issues along the way while in development, or have to change direction because of fan backlash due to impressions of the early access content. We're excited to say that Dreamscaper bucked this trend and launched early on both Steam and the Nintendo Switch.
If you liked what you saw in Early Access but want to play the game on the go, like the hallway man from the recent Switch press conference, then fear not! You'll now be able to take your Dreamscaper runs with you wherever you go!
The game has already garnered the attention of the gaming media at large, with sites like IGN labeling it a must-try for any fan of Hades. It has also received some heavy endorsements from indie-game sites like Indie World. What's clear from all this is that the game is well-balanced and plays exactly as you would expect from the rogue-lite genre. It's polished and the dream/wake cycle brings something fresh to the genre, with the buzz, in general, being quite positive from what we've seen thus far.
The focus of the developer in launching the full edition 1.0 Dreamscaper experience, was to round out any gaps that were in early access regarding the game's content or story and add plenty of replayability. So for those who think that they've had their time with the game already and don't need to revisit it on launch, I suggest you give the game another run when August 5th rolls around, to get the full Dreamscaper experience. You'll more than likely find yourself hooked all over again.
And if you've been eyeing the game but wanted to wait until it was finished so as to not tarnish your experience or expectations for the game, well you don't have to wait long now, so make sure you're keeping an eye out on the Steam store page and Nintendo E-Shop.
Now, I'll be discussing what's been added to the game since Alpha, so if you want a pristine Dreamscaper experience turn back now. Past this line be spoilers. Still with me? Excellent!
---
The first of these exciting new additions is the acknowledgement from the developer that their audience will likely be extremely good at the game come launch because of the availability of the early access build. So, to address this and encourage players to give the game another try, as well as returning players that just love a challenge, they're adding what they call the "Dream Intensity" options to each run. Fancy name aside, it's essentially a way for the player to tailor their runs to in terms of how difficult and challenging they want their experience to be.
If you want to know how those meters actually affect the game's replayability and level of challenge, you'll have to wait for our comprehensive review which will be out shortly after the game launches, but just having the option is a good start, we must say.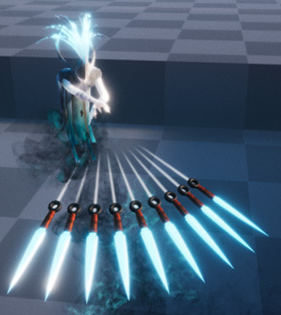 The second big addition for the launch of 1.0 is a new biome. Players that progressed quite deep into the early access version of the game would have noticed that the last two areas of the game were quite similar, perhaps too much so. This part of the game has been re-done and revamped for a fresh experience, with the last level being updated to its own biome entitled "The Return". Want to know what that looks like? Well, you're going to need to dive deep into Dreamscaper in August!
The next exciting part of the game, and perhaps one of the most impactful, is the plethora of new enemies and bosses. With the full launch of the game, there will be a bunch of new baddies added including bosses, mobs, boss variants, boss mechanics, and different endings based on the conditions you defeat enemies under!
The game also looks a lot crisper from what we've seen of the full release press kit thus far, with the entirety of the HUD being replaced with a much more refined version that's easier on the eye. There's more languages in there as well, making the game much more accessible and may help those on the fence to decide whether to purchase the game. There are also some new Steam achievements for those of you who like to collect those, along with some new music tracks and a huge collection of quality of life fixes and additions.
All in all, it makes for a game that we're extremely excited to get our hands on. We'll be playing it non-stop from the launch date to bring you all the best guides, content, reviews, and how-to videos. You know, all that good stuff that you've come to expect from MGN. For now, make sure you're keeping an eye out on the game and be sure to check it out on Steam and throw it on your wishlist for August 5th.
---
Next:
Credits
Recommended