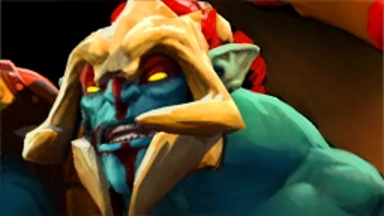 This guide will help you finesse the art that is playing middle Huskar with a huge ego. You're going to be getting the best items, you don't have to have skill or to use your brain at all, and you'll always have heaps of kills – the only stat that matters.

THIS IS BIG-EGO HUSKAR BABY. YOU WANT ALL THE GOLD, ALL THE EXP, NOT SHARE WITH PUNY SUPPORT. YOU TAKE MID SO YOU GET ALL THE GOOD STUFF. HAVE BIGGER LEVELS THAN EVERYONE. AND STOMP THEM INTO THE GROUND STRAIGHT AWAY.
Preface.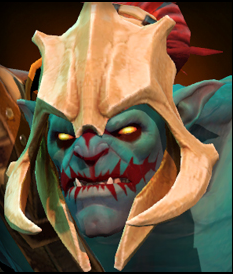 This guide will introduce you to playing Huskar in the middle lane, with the aim being to keep things as simple as possible, so that you can focus on learning how to use the hero effectively.

However, with that said, the following item and skill build suggestions are in-order, but the more you play Huskar (and Dota in general) and the more experience you get, you'll come to know that no one builds is going to solve your problems every game.

No two Dota games are alike, and therefore no two builds you work towards in-game should be alike. But for now, keep it simple, and you'll get there.

THIS IS BIG-EGO HUSKAR TIME. WE'RE GOING TO TAKE THE MID LANE, SHOVE SPEARS AT ENEMY HEROES, GET LOTS OF KILLS AND SPAM THE CHAT WITH HOW GOOD WE ARE. IF WE DIE, INSTANTLY BLAME SQUISHY SUPPORT CHUMPS AND SPAM CHAT WITH "NO VISSSION".
Starting Items. 


600 Gold.

Double Gauntlets of Strength. 600-290=310 Gold.

We're getting some stat items to begin with. Everything Huskar wants and needs is usually revolving around strength, so we're getting as much as we can, as early as we can. They provide us with a little more early bulk, and the damage we need to secure last hits. These will also build into bracers as the game progresses early.

JUST GET HEAPS OF THESE AND THE HEALTHBAR WILL LITERALLY BE OFF THE PAGE. THEY WILL NEED TO BRING LIKE FOUR HEROES TO KILL YOU AND THE WHOLE TIME YOU'RE LAUGHING AND DOING BIG NUMBER DAMAGE

310 Gold.

Circlet. 310-155=155 Gold.

We have woeful armor early, and Circlet helps mitigate that somewhat. All round stats help us survive, and get off last hits, they're never a bad option. They are also an ingredient that is needed to build bracers, so that speeds things up a little bit.

NUMBERS ARE THE ONLY THING THAT MATTERS. IF YOU HAVE BIG ATTACK SPEED NUMBERS, THEN YOU GET BIG KILL NUMBERS, AND THAT'S THE ONLY THING YOU CAN BRAG ABOUT IN DOTA.

155 Gold.

Faerie Fire. 155-70=85 Gold.

FF usefulness is twofold: we get the extra damage, which will secure last hits and help us harass. And it can be eaten in an emergency need of HP, or to clear space. It's a pretty useful item, for not much cost, that helps us out with exactly what we need early.

+2 DAMAGE. I'M JUST STARTING WITH SIX OF THESE GUYS. DON'T WORRY IF WE GET FIRST BLOOD THEN WE WIN THE GAME AND CAN TRASH TALK ABOUT FIRST BLOOD.

85 Gold.

Observer and Sentry Ward. 85-75=10 Gold.

We're playing mid, so we're getting one of the starting wards. We need to be able to see across high-ground, and having vision around runes is super helpful. Ideally we'd also like to deny the enemy the same luxuries, so we pick up the sentry.

Put your ob in a sneaky spot, perhaps behind the flag. And wait for your opponents ob to disappear in their inventory to place your sentry. No vision for them, vision for you, excellent.

IF WE CAN'T SEE 'EM, WE CAN'T KILL 'EM. GET PUNY SUPPORT ITEM SO THAT WE CAN CRUSH MID AND SPAM "EZ MID" IN CHAT. SHOW THEM YOUR DOMINANCE BY DELETING THEIR PUNY PATHETIC WARD.

10 Gold.

Double Shared Tango. 10-0=10 Gold.

Again, we're playing mid, so we nab two Shared Tango from each of the supports as the game begins. We're going to want to get some regen after harass or rune contesting, without having our skills taking care of the HP so early.

YOU HAVE A RIGHT TO EVERY TANGO IN THE GAME AS THE MID HARD CARRY SUPER GODLIKE HUSKAR PLAYER. TAKE ALL THE TANGOS IN THE WORLD AND EAT TREES IN YOUR OPPONENTS FACE TO DISPLAY DOMINANCE.

10 Gold surplus.
Early Game. (In-Order) 
Double Bracer.

"+ 5 Strength + 2 Agility + 2 Intelligence + 3 Damage + 0.75 HP Regeneration"

We're turning our double gauntlets into double bracer. The more strength we can get our hands on early, the better, so we invest. Three is not the craziest thing I've seen either, if you're thinking about it, but are worried it might be overkill. I've seen it, I've seen it work.

Strength provides HP regen is pretty straight forward, but with Huskar's passive, this is especially true. You're going to be using items and abilities that drain your health quickly, and you're going to want to plateau these out with a high strength stat to help your passive keep you up.

Now that you've gotten plenty of regen, you can use your burning spears to harass and deplete HP much more easily. And that's the goal overall, making your life easy with the guide, to get Huskar down and get experience playing him, and playing mid.

EACH BRACER YOU GET GIVES A HIGHER DAMAGE STAT, AND THAT BAD BOY MATTERS WHEN YOU'RE TRYING TO KILL STUFF. JUST GET HEAPS OF THESE, YOU CAN CARRY 9 SO WHY NOT BUY 9 JUST IN CASE YOU NEED THREE IN THE BACKPACK. THEY ENEMY WILL HATE YOU AND TEAM MATES WILL WANT TO BE YOU.

Power Treads.

"+ 45 Movement Speed + 10 Selected Attribute + 25 Attack Speed
Active: Switch Attribute
Switches between +10 Strength, +10 Agility, or +10 Intelligence

Huskar is one of the slowest heroes, and you're going to notice this instantly when playing. So we're getting boots, and getting them upgraded out of the way early so we don't have to worry about them later. Just lock them in, set and forget, and we've got the movespeed we desperately need.

Huskar is an excellent wearer of phase boots, and if you're considering them, they're a great idea. They provide extra move speed to close gaps and escape, a big jump in damage, and provide armor which we desperately need. So, there's no bad option between phase and treads.

However, I really like treads. The extra attack speed accelerates farm, and can be changed to AGI to further enhance this and provide some armor if need be. We don't really need to worry about mana management, but if we run into issues there, treadswapping again helps. If not, we just get another +10 strength that is combined with a boot slot – furthering boosting our passive and survivability whilst damaging our own health with skills and items.

It's for the utility of being able to swap from that armor to regen or damage, or really whatever you need in the moment, that I've recommended treads over phase.

IF WE LOSE THE LANE, JUST BLAME THE SUPPORTS AND RUN INTO THE JUNGLE WITH THESE BAD BOYS. COME BACK SUPER FARMED AND CARRY THE GAME SPAMMING EZ MID, TO GET VENGEANCE ON THE HACKER WHO HACKED MID.

Armlet of Mordiggian.

"+ 15 Damage + 25 Attack Speed + 5 Armor + 5 HP Regeneration
Toggle: Unholy Strength
When active, Unholy Strength grants +35 damage, +25 strength and +4 armor, but drains 50 health per second."

Armlet is the quintessential item on Huskar. It's expensive early, and should be the highest of priorities. It provides us with utility we need to use our passive, and deal massive damage, and provides all the stats we're looking for. With the active, we can a burst of HP, and lots of killing potential. This is where we shine, other carries are not online yet, and this much damage spike will net you kills and hopefully turn into a snowball – which Huskar needs and loves.

It provides utility in actively being able to take our own HP without need an opponent to lower it by their attacks or by our use of burning spears.

Later we can make the active on Armlet and the auto-cast of Spears permanent – with the gradual loss of life is offset by our passive, with our huge HP regen, and any lifesteal we obtain later.

SCREW STRATEGY JUST 5v1 AND BLAME LACK OF VISSSSION. YOU MIGHT RACK UP LOTS OF DEATHS AND FEED HEAPS, BUT AS LONG AS YOU GET A KILL ON SOME USELESS SQUISHY SUPPORT, THEN YOU'RE PRO MID BIG-EGO HUSKAR BABY.
Build Items. (In Order) 
Black King Bar.

"+ 10 Strength + 24 Damage
Active: Avatar
Grants Spell Immunity. Duration decreases with each use.
Duration: 10.0 / 9.0 / 8.0 / 7.0 / 6.0 / 5.0 Dispel Type: Basic Dispel"

Black King Bar is very, very rarely a bad idea on pretty much any hero at some point in the game. And whilst Huskar is no exception, an early BKB can really help you snowball and the strength stat works in coordination with your passive.

Where BKB really shines for us early is that we can use it to prevent the enemy from locking us down, and preventing our rightclicks from securing kills. We get a few kills with this method to snowball into our latter items, and hopefully end the game quickly from that point on.

ONLY COWARDS USE STUNS, SINCE THE ENTIRE ENEMY TEAM ARE ALWAYS, ALWAYS COWARDS WE USE BKB SO WE CAN JUST STRAIGHT UP IGNORE PEOPLE WHO RELY ON USING SKILLS AND WONT MANFIGHT LIKE THE COWARDS THEY ARE.

Heart of Tarrasque.

"+ 45 Strength + 250 Health + 1.6% Max Health Regen"

I often see Heart combined with Armlet and Spears referred to as 'the brain dead combo'. With heart, you don't need to worry about toggling off and on the armlet, or the auto cast on spears. I ask you, why does brain dead have to be a bad thing? The aim of this guide is to keep things simple, so that you can wrap your head around getting good at playing a hero that is new to you.

-Grab the heart, leave your toggles on, survive and reap the befits of having those two active all the time.

THEY WILL NEED AT LEAST FIVE HEROES TO COME KILL YOU. YOUR HP IS MASSIVE JUST LIKE YOUR EGO. THEY WILL NEED YOUR CARRIES TO SWAP TEAMS IN ORDER TO KILL YOU. JUST LAUGH IN THEIR FACES AND SPAM ALL THE STUFF YOU GOT. HEART JUST LETS US FACEROLL THE KEYBOARD TO WIN THE GAME BOOOOM.

Heaven's Halberd.

"+ 20% Evasion + 20 Strength + 16% Status Resistance + 24% Self HP Regen and Lifesteal Amp
Active: Disarm – Prevents a target from attacking for 3.0 seconds on melee targets, and 5.0 seconds on ranged targets."

HH works well in coordination with out Inner Fire, either prevent two targets from attacking altogether, or providing a single one from attacking for a pretty long length of time.

Elsewise, the stats it provides are everything we want playing Huskar. A big boost to strength, and amplification to our regen with Berserker's Blood. We also get some evasion and status resist for longevity!

CONGRATULATIONS ON FINISHING YOUR ITEMS OTHER TEAM CARRY, BE A SHAME IF YOU NEVER GOT TO ATTACK WHILST I SPAM YOU WITH BURNING SPEARS.

"GOD, WHAT A STRATEGIC GENIUS YOU ARE HUSKAR." – YOUR TEAMMATES.

Aghanim's Scepter.

"+10 All Stats.
Forces the enemy target to attack you and increases cast range."
Scepter improves the cast range of your Life Break by an additional 300 units, taking it up to 850. Meaning that escaping from you, provided you have the vision, is going to be pretty difficult. Whilst this is a good benefit, I recommended Agh's for the taunt.

Without the scepter buff, Huskar really has trouble with disabling. If the opponent is channeling, including teleporting out, there's very little you can do besides trying to kill them first. Disarm is nice, but it's not the disable we need it be in these scenarios.

If we surprise an enemy, and their response is to TP out or flee before we can finish the job, enter Aghanim's Scepter – they're forced to attack you for three seconds. This will interrupt their channel, lock them in place, and let you finish the job.

THEY CAN NO LONGER REFUSE TO MAN-FIGHT YOU. SPECIFIC HERO FINESSE LIKE THIS USUALLY TAKES YEARS, YOU'VE JUST LEARNT IT THE MATTER OF HOURS IT TAKES FOR US HUSKAR MAINS TO READ THIS PARAGRAPH.
Luxury / Situational Items. (No-Order) 
Order Note:

Because the items listed here are based around situational happenstances, or just a luxury of gold, I haven't ordered them. If you need to rush MKB for a heavy-evasion counter, then do that immediately.

If not, and you're looking to experiment a bit, then play around with the order if you get the chance in the late game – or just buy what appeals to you, but here are some starting suggestions for sixth slot:

Satanic.

"+ 25 Strength + 55 Damage
Active: Unholy Rage
Increases Life-steal percentage to 200% for 6.0 seconds.

Passive: Lifesteal
Heals the attacker for 25% of attack damage dealt."

Satanic is a great option to improve your survivability with a 25% life steal and provides more damage and strength ontop – making it not just a lifesteal stick. The lifesteal will stack with your talent, or can be taken as an item if you're not taking the lifesteal talent. Works well with HH also.

If the enemy has finally done enough to kill you, pop this and bkb, and you get an extra life essentially.

JUST GRAB SATANIC THEN YOU DON'T NEED TO MOVE YOUR HERO. USING THE MOUSE FOR ANYTHING BUT RIGHT-CLICKING TO START A MANFIGHT IS FOR COWARDS. TAKE THE BATTERIES OUT OR UNPLUG THE USB AFTER RIGHT CLICKING ENEMY HERO.

Hurricane Pike.

"+ 13 Intelligence + 2.5 HP Regeneration + 20 Agility + 15 Strength
Active: Hurricane Thrust
Pushes you and target enemy 450 units away from each other, and for 5.0 seconds, allows you to make 4 attacks against the target without range restrictions and with +100 attack speed.

Passive: Dragon's Reach
Increases attack range of ranged heroes by 140."

Hurricane Pike's usefulness is twofold:

Firstly – you get extended range, allowing you to attack heroes longer as they flee, or be safe from melee whilst you dish the damage. You can stress less about positioning with the extra attack range.

Second – the push counters. You can the advantage if you can hurt them, but they can't hurt you. Enemy carries that gain an advantage by being ontop of you are countered by the push. Think Ursa, Slark, Troll, PA etc. You push them away, and they can't attack to hurt or lifesteal. This combined with your disarm(s) hurts melee carries very hard.

USE THIS TO LAUGH IN THE FACE OF THOSE WHO DARE TO PLAY MELEE HEROES AGAINST YOU. YOU MIGHT HAVE OUTFARMED ME, AND HAVE CARRIED WAY HARDER, BUT I WILL MAKE YOU FLEE IN TERROR OF MY MIGHTY HUGE PIKE EGO.

Monkey King Bar.

"+ 40 Damage + 35 Attack Speed
Passive: Pierce – Grants each attack a 75% chance to pierce through evasion and deal 70 bonus magical damage."

Evasion screws with your ability to be impactful in the game pretty hard. If you're not connecting, and they're not dying, then you're pretty screwed. You're not getting modifiers off, and you're not lifestealing. Rush MKB is this is an issue, so that you can get that evasive carry out of the way to get your normal Huskar-ing on.

PLAYING AGILITY HEROES WHO RELY ON MECHANIC SKILL AND AWARENESS IS FOR COWARDS, IF YOU BRING A MKB TO A FIGHT, YOU CAN PUNISH THESE COWARDS FOR THEIR COWARDLY WAYS.
Skills. 
Inner Fire.

"In a fiery rage, knocks all nearby enemies away from you to a fixed distance, dealing damage and disarming them.

With Aghanim's Shard, the disarm also slows movement speed and applies heal reduction, health regeneration reduction, lifesteal reduction, and spell lifesteal reduction."

Skill at: 8,13, 14, 16

This is a great skill, and you might be looking at it and thinking that the utility is far too good to leave until 8 and I don't blame you. However with that said, the impact we have with burning spears, and the necessity of Berserker's Blood means that something has to miss out on the early game points.

Jump in with life break, follow up with Inner Fire to disable and go for the kill. Disable is extended with HH item active.

THIS ABILITY DOES DAMAGE SO YOU PRETTY MUCH WANT TO USE IT ALL THE TIME. SPAM THIS EVEN IF YOU'RE IN FOUNTAIN. IF YOU DON'T KNOW WHAT YOU'RE DOING, THE ENEMY CAN'T EITHER.

Burning Spear.

"Huskar sets his spears aflame, dealing damage over time with his regular attack. Multiple attacks will stack additional damage. Each attack drains 4% of Huskar's health. Lasts 8 seconds."

Skill at: 1, 3, 5, 7

The cost can be extremely heavy early on the game before you've gotten some of your key items, so I wouldn't recommended auto-cast until deaper into the game. Use this manually to harass early, and finish quickly to ramp your damage. They stack too, so getting plenty off is going to see you melt HP bars, but beware the cost!

SET THEM ON FIRE ALL THE TIME. JUST SPAM AS MANY AS YOU CAN BEFORE YOU FEED. THEY DIE AND YOU CAN SPAM CHAT ABOUT HOW IT WAS WORTH THE 20+ DEATHS YOU HAVE TO GET A FEW DEATH SCREEN KILLS WITH THE FIRE DOT.

Berserker's Blood.

"Huskar's injuries feed his power, giving increased attack speed and health regen based on missing health. Health regen is a percentage of your strength."

Skill at: 2, 4, 9, 11

We've invested heavily in strength items, and this is how that pays off. We can use this to keep ourselves sustained whilst auto-casting spears and toggling on our amulet. The more skill points and strength, the less we need manage. This also works to give us additional attack speed. We're keeping it lower, but steady.

THIS MEANS THAT BASICALLY ANY DEATH YOU HAVE IS NOT YOUR FAULT. BLAME SUPPORTS, BLAME LAG, BLAME GLOBAL WARMING IF YOU HAVE TO IDK.

Life Break.

"Huskar draws upon his health to break an enemy's life, leaping at a target within attack range to shatter a percentage of that hero's current health, and slowing them. While leaping, Huskar is spell immune.

Scepter Upgrade: Forces the enemy target to attack you and increases cast range."

Skill at: 6, 12, 18

Huskar's gimmick is trading life for damage, and the ult is no exception. A great catching tool, a good follow up to your teams initiation. Jump in, cause panic, get your AoE, get your items off and start doing heavy damage now that the ult has chopped your life.

Don't forget that the leap will also purge negative effects, if you have cooldowns ticking away on your other methods. Jump to an enemy to purge the root, disarm, etc.

THIS SKILL DOES DAMAGE SO YOU WANT TO USE IT ALL THE TIME. DO IT EVERY TIME YOU SEE ANYONE. JUMPING INTO HIGHGROUND WITH NO VISION DOESN'T MATTER JUST KILL THEM.

THEY CAN'T KILL YOU IF THEY'RE DEAD FAM.
Talents. 
Level 10: +12 Damage.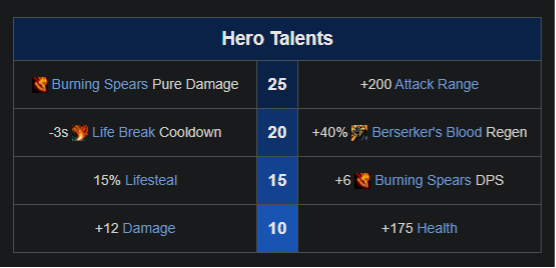 There really isn't a bad choice here. Huskar likes both options. The health for a nice boost to your HP juggling, and the damage to help you snowball. I find myself most often taking the damage often, so I've recommended it here.

Huskar comes online quite quickly, and relies on securing kills and snowballing to get fat, and pushing the clock to end the game before long. He falls off in comparison to other carries, in the late game. You'll notice this if the enemy carries take some time to come online, and the game goes really late.

So, we take the damage, and aim to use it to snowball into a big level and item advantage to prevent the enemy team carries from coming online and making any counter-play. That's the plan anyway.

WHAT IN THE HECK DO YOU NEED HEALTH FOR IF THE ENTIRE ENEMY TEAM IS WATCHING THEIR DEATH CLOCK TICK DOWN ALL THE TIME FOR. JUST KILL THEM AND THEY CAN'T CHANGE YOUR HP WHILE DEAD.

Level 15: 15% Lifesteal.

Another tough choice, because an extra 6 damage per tick on your burning spears really adds up and can be super potent.

However, I have recommended the lifesteal talent at 15 because I haven't used any gold on a mask up until this point – so without the talent, we have no lifesteal. Without that, lifesteal amplification is useless.

If you've invested the gold for a mask and plan on making satanic, it will stack with the talent, but I'd recommend taking the burning spear damage instead. You'll have plenty of lifesteal, and be able to take down foes quickly, but it does mean that the gold used to buy mask early does slow you down itemization wise, a little.

YOU WILL BE AN UNSTOPPABLE KILLING MACHINE, DAMAGE IS NOW HEALTH, HEALTH IS DAMAGE. IT'S A BIG CIRCLE OF SCREW THE ENEMY TEAM. CIRCLE IS THE BEST SHAPE.

Level 20: +40% Berserker's Blood Regen.

This one is a bit more simple of a choice for me. We aren't really going to be spamming Life Break, and the cooldown is not something crazy even if we wanted to. 12 Seconds cooldown naturally means that we can use it when we need to regardless of not taking the talent, in most cases.

That being said, the 40% is a huge boost, and almost impossible not to take. HP management is made easy, and we become even more capable of sustain and jumping in and out of engagements.

NUMBERS ARE THE ONLY IMPORTANT THING IN DOTA. IF YOU GET BIG NUMBERS YOU CAN TALK TRASH IN CHAT. 40 IS ONE OF THE BIGGEST NUMBERS THERE IS. GET THIS ONE.

Level 25: Burning Spears Pure Damage.

Again this one is a pretty simple choice for me. If you want attack range you can grab the neutral, or build dragon lance into hurricane. That's if you want it, you're going to be ontop of the enemy anyway, so it feels pretty situational.

However you cannot simply build something that is going to make your main damage ability ignore spell immunity and all forms of resistance.

THIS TALENT HAS DAMAGE IN THE NAME, THE OTHER ONE DOESN'T. HOW ARE YOU SUPPOSED TO FLEX YOUR BIG DAMAGE ON THE SCRUBS PLAYING WITH SKILL, WITHOUT HUGE DAMAGE.
Credits
Related