Resident Evil fans got a new look at the installment of one of the famous horror games, Resident Evil Village, dropping another trailer. The new Resident Evil Village trailer offers one more glance at the dazzling, transcending Lady Dimitrescu, her less stunning looking little girls, more handsome Chris Redfield, and different creepy, terrifying creatures that anticipate Ethan Winter. 
This one will be multiplatform, and it offers a sample of the game that is close to the eventual outcome. Tsuyoshi Kanda, maker of Resident Evil Village, said that the subsequent demo will be accessible for Google Stadia, PlayStation 4, PlayStation 5, Windows PC through Steam, Xbox One, and Xbox Series X.
The multiplatform Resident Evil Village Demo, that will last for 60 minutes, will be available:
North America – May 1 5 p.m. PDT to May 2, 5 p.m. PDT
Europe – May 2, 2 a.m. CEST to May 3, 2 a.m. CEST
Asia – May 2, 8 a.m. HKT to May 3, 8 a.m. HKT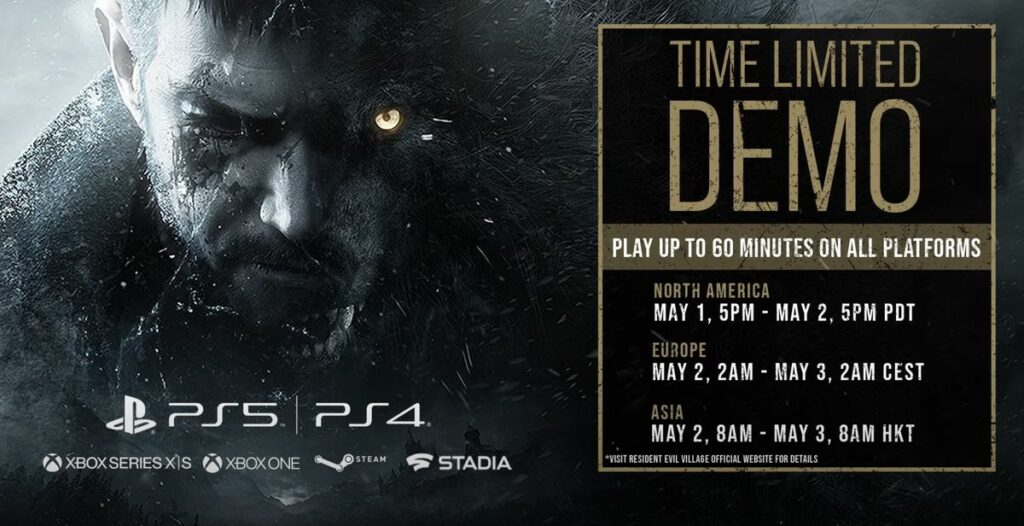 For Playstation 4 and 5 owners, they will get early access to demo content, which will be available over two time periods, one will focus on the game's village and other will focus on its castle. 
Village Demo:
North America – April 17, 5 p.m. to April 18, 1 a.m. PDT
Europe – April 18, 7 p.m. to April 19, 3 a.m. CEST
Asia – April 18, 5 p.m. to April 19, 1 a.m. HKT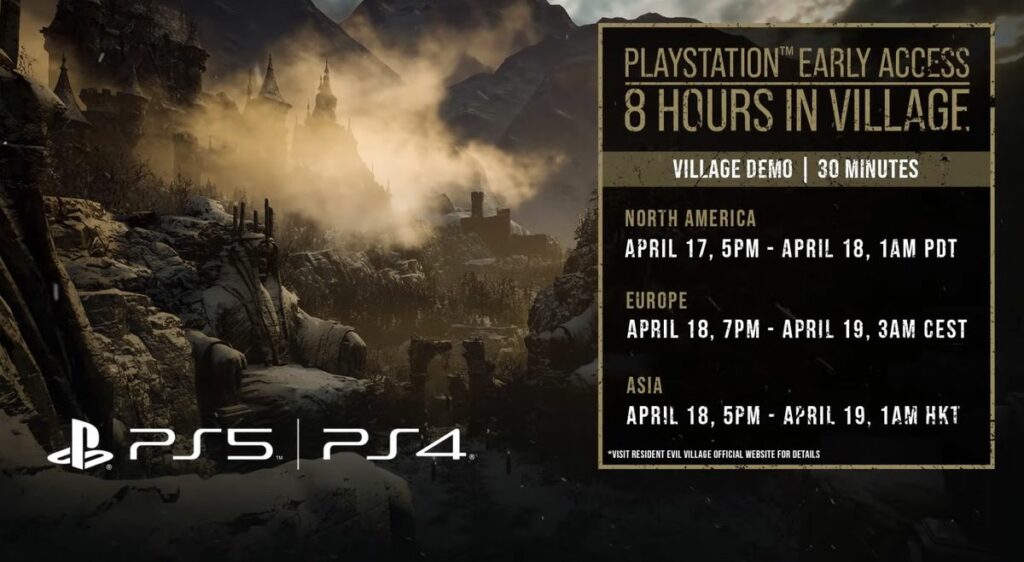 Castle Demo:
North America – April 24, 5 p.m. to April 25, 1 a.m. PDT
Europe – April 25, 7 p.m. to April 26, 3 a.m. CEST
Asia – April 25, 5 p.m. to April 26, 1 a.m. HKT