K.I.S.S. – Keep it simple, stupid. Great advice hurts my feelings every time. Sven gets no love, and this is a shame because he can potentially be one of the most damaging and satisfying heroes to play in Dota 2. Sven's kit is uncomplicated, and he makes the perfect candidate for a KISS guide. A fun and effective hero, that is easy to play.
This guide is aimed at keeping things simple with Sven, and will give you a clear game plan on what you're trying to achieve both ability and item wise. Then, once you've learned how to keep things simple, you can adapt that game plan to counter your opponents and help your team crush.
Preface
The Keep It Simple Stupid guide will help you lay the ground work for what your builds will look like, and give you the platform you need to play Sven and get your experience up.
However, with that said, the following item and skill build suggestions are in-order, but the more you play Sven (and Dota in general) and the more experience you get, you'll come to know that no one builds is going to solve your problems every game.

No two Dota games are alike, and therefore no two builds you work towards in-game should be alike. But for now, keep it simple, and you'll get there.
---
Starting Items
Tango
Taking damage early is unavoidable. If you take absolutely no damage contesting runes, during the laning stage from harass, or from clearing waves and camps, then you're either doing something very right, or very wrong. So, we need some health back. For this, we grab the starting Tango.
Quelling Blade
Anything that we can do early to make your life easier, we're going to do. So, we grab quelling blade. Why? Because Sven gets the full extent of the buff being a melee hero, and because the damage will make your job of last hitting much easier.
Gauntlets of Strength
We're grabbing a main-stat item early for a few reasons. It will build into our bracer later for suitability, provides us a little bulk to make surviving in our lane easier, and gives us some damage to get those last hits off.
Circlet
If you're familiar at all with any of other Dota 2 content, you will hear me say often that overall stats is never a bad thing to prioritize. And it is still true here, circlet will provide us with some overall bulk and the damage from the stat and extra mana potential.
Iron Branch
We're using our leftover gold to grab a branch, for a few reasons. If we find ourselves really lacking HP as the game progresses, we can use the branch in combination with our tango for a heal. Or if not, we can hold onto it for the stats until we need the slot. OR, if you're facing casters, use it to build into the wand. There's a lot of utility here for the price.
---
Early Game Items
Bracer
We're turning out gauntlets and circlet into a bracer. This will help us survive overall. We're getting some armor, and some mana and regen, to make our life a little easier. But we get a chunk of HP and regen, and additional damage to make last hitting easier, to build up our GPM.
Power Treads
Simply put, we need a movement speed item. Additionally the utility that Power Treads provides is fantastic. We can swap to get bulk and survive ganks, we can regen our mana quickly, we can counter right-clicking harass. They're a fantastic option and one that will last in utility throughout the entirety of the match.
Mask of Madness
Once we've gotten our abilities in, we want to be using as many right-clicks as possible and very little else. That is where the utility of Mask of Madness comes in. We get the passive to provide us with some bulk, and provide a method of getting our health back and enabling some man-fight capability. But we also get the active for once those abilities have been used – get on top of the enemy and attack them with an enormous boost to your attack speed.
---
Build Items
Black King Bar
Right-click carries are nothing without BKB. If we don't take the spell immunity, the opposing team will note this, and spam Sven with lock-down abilities until he's dead. We need to avoid this from happening, to get our abilities off, and to burst down heroes with our potent right clicks. So, we grab the BKB early.
Echo Sabre.
Sabre is a big power spike for us at this stage in the game. This is where we can take our bullying from having Mask of Madness, and BKB, and turn it up a notch. Grab the sword, and begin to look more actively for engagements that you can join in and use Echo Sabre to snow ball your kills and gold into bigger items.
Blink Dagger
Enemies will not want to be caught by your stun, and certainly not want to be caught by the follow up that is coming afterward with your mask and echo. So they're going to run away, and some potentially will be able to make that escape. What do we do about it? Grab Blink Dagger.
We get the element of surprise with our stun and follow up, and an even better method of chase. Jump on them to intiate, or to chase them down, follow up with the stun and it's gg.
---
End Game Items
Daedalus
Now that the game has lasted long enough to push into the late-game, we need a power spike to keep our damage from the right-clicks that we're getting double on with our Echo relevant for the latter stages. So, we pick up an enormous power spike in Daedalus. This turns the potential from our attacks into a killing machine.
Swift Blink
Swift Blink is insanely good on Sven. So, we're turning the Blink Dagger that we got earlier into the swift variant. Yes, we do get the additional stats which work well into our game plan of getting plenty of attack damage in after our abilities. But, we also get the extremely potent active.
'After teleportation, you gain 40% phased movement speed, +50 Attack Speed, and +50 Attack Damage for 6.0 seconds.'
This is another huge power spike for us, and you can absolutely prioritize the Swift Blink upgrade earlier in the game over other utility or damage, that is how insanely good the active is on Sven. We want everything. We get on top of our opponent between the blink and phased movement, then follow up with +50 and +50 speed – these two bonuses are why we can forgo other items earlier as an option.
Sange and Yasha
S&Y doesn't add anything new to the build, but what it does do is turns everything that we have and want stat wise, up to eleven. We get attack speed, move speed, status resist, lifesteal amp, damage and more. But, those are the keys to staying relevant in the late game. S&Y gives you a healthy boost to absolutely everything you want as Sven.
---
Skills
Storm Hammer

Can be upgraded with both the shard for the enemy dispel, and/or the scepter to teleport Sven along the path of the ability. The radius is large, and provides a good area of affect, with an stun that requires no aiming. Just click to stun, get it off on as many heroes as possible, and go in.
As we're investing in the blink dagger, and later swift blink, I wouldn't recommend upgrading the Hammer with the scepter as we really don't need the gap closer and the gold can be better spent elsewhere.
Great Cleave

The cleave with Sven it was makes our right-clicks and items so potent, because they're automatically spread out among enemies without any gold investment in items like battlefury or maelstrom. We get the AoE naturally, and can augment it with items like Echo Sabre and Daedalus.
There isn't much more to say about Great Cleave, it just applies our amazing right-click potential to all enemies, rather than us having to rely on single-targeting down our foes one after another, instead they all lose health together.
Warcry

When starting engagements, ensure that this and your ultimate are active before you activate your Mask of Madness. If the enemy tries to flee after your engagement with the blink and stun, you don't want them escaping you with a lack of catch, and you don't want their return damage to be anywhere close to your lifesteal and armor.
So, we pop this on engagements and don't stress on their escape or man-fight ability.
God's Strength

This is the ability that lets us kill heroes with a single whack of our Echo Saber. Combined with our damaging items like Daedalus and S&Y, the boost from swift blink, and the spread with our cleave – we can clear out teams with our damage instantly.
Ensure that you're getting it off in engagement prior to activating the mask, and let the +250% damage take care of the rest.
---
Talents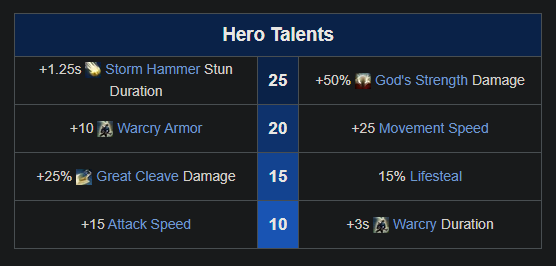 Level 10: +15 Attack Speed
Warcry having eleven seconds instead of eight is pretty situational. It can be useful if you are aware that the enemy team is going to want long, right-click engagements with yourself and you know that mask might not be enough to out man-fight.
Whereas the other option is always useful, all the time, always, forever. Attack speed is something that Sven likes in all aspects of the game – farming, fighting, sieging towers. It's just infinitely more useful, so I've recommended it at 10.
Level 15: +25% Great Cleave Damage
This talent is a much more difficult choice, and really either option is great and will really depend on what you anticipate needing more. The clear of multiple foes, or the fighting potentially and viability of lifesteal. Personally, I find that between the passive and a well timed activation of Mask of Madness, that I have enough lifesteal and would like the cleave damage – so I've recommended grabbing it here at 15.
Level 20: +25 Movement Speed
Sven's level 20 talents aren't great, either of them. I haven't recommended Warcry buffing here because we didn't take the talent at 10, so why would we take it at 20. However, if you've found it useful in the particular game you are playing against a right-click set up, grab it here as well. Elsewise, getting around easier is never a bad idea.
Level 25: +50% God's Strength Damage
This is an instant lock in, no question. Taking the boost to your damage from 200% to 250% is insane, and I cannot think of a single example where I have opted not to take up this option recently. God's Strength is what makes this build as potent in insta-killing enemies as it is, and augmenting it with more damage is always good for your build.
Credits.