Bennett is a 4-star character, and sure, there are a ton of other healers that have a higher star rating than him. But we often forget that Genshin Impact is a team-based game. You control all four of your party members, but it's still a team-based game nonetheless. So, each character has their specific role and for the most part, this is true.

Xiao, for example, is a mainly selfish DPS character, whereas Zhongli is more of a support character. Bennett is where the rules break; he's basically three characters in one. His primary role is being a healer, but he's also a damage booster and a VERY good one at that. He also has the ability to deal a TON of damage by himself, making him a pretty decent DPS too. Bennett is the one character that you can use in any situation in the game, and this is why he deserves a proper guide!
BENNETT BUILD:
Attributes: Attributes are something that is important for every character, and leveling Bennett up to the maximum can result in some insane damage, great max stamina, and a ton of HP.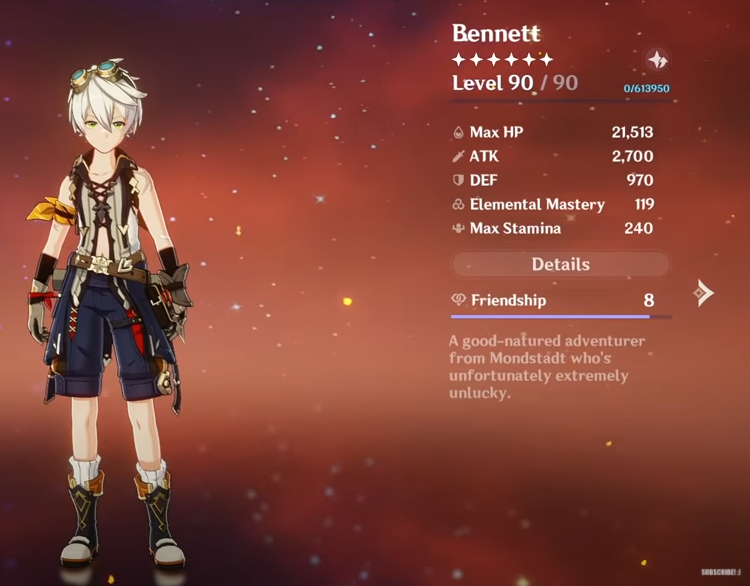 The damage itself isn't the highest, but once you use your damage-boosting ring, it can jump high up into 2,700 damage territory, which is even more than some proper DPS characters. His Defense is REALLY high; 970 is an insane amount of defense for a healer, and the gigantic overall HP is just a PLUS in every situation!
Weapons:
Now, when it comes to weapons, you're always looking for the highest quality no matter what character it is. And it's safe to say that the Primordial Jade lineage of weaponry in Genshin Impact is the best at this moment.
Bennett's Primordial Jade Cutter comes with a ton of good things. To start off, the CRIT chance is almost 50/50, which means you're going to land a critical hit at least one out of four times. Not to mention it has a huge amount of Base ATK damage and gives you a 20% HP increase, as well as provides you with bonus ATK damage.
If you're not ready to pay for the Primordial Jade Cutter, then make sure to get the insanely good free weapon, Festering Desire.
Festering Desire has a huge Base ATK, and comes with a TON of energy recharge. The energy recharging makes this weapon a solid pick, even over the Primordial Jade Cutter. Not to mention Festering Desire has some of the best perks for Bennett, such as an increase in Elemental Skill Damage by 32%, and also gives your Elemental Kill a higher CRIT chance by 12%.
Artifacts:
Four-Piece Crimson Witch; there's no other way you should run Bennett than this if you're on a high level with him. This is THE best set for him, in any case whatsoever.
Now, to start off, this set gives you an increase of +6,636 Max HP points, an increase of +855 Attack Damage, +199 Defense, and +119 Elemental Mastery, which means faster recharges and shorter cooldowns. This alone makes this set INSANELY good, but if you need more convincing, then it comes with a +15% increase in all fire damage that Bennett does. It increases the damage caused by Overloaded and Burning by 40% and increases the damage caused by Vaporize and Melt by 15%. Not to mention that it can stack up to 3 times for 10 seconds by using your Elemental Skill; each stack increases the Bonuses by 50%.
If this insanely well-made build for Bennett wasn't enough to convince you, then I suggest you give him a shot anyway. He is one of, if not the most powerful characters in the game, and truly deserves a spot in every single team composition!
Credits
More